Again with the etymology . . .
Voki is a combination of Vox and Loki. Vox being the latin word for voice and
Loki
is a character from Nordic Mythology.
Here are a few examples of avatars that I have created recently. Not only was using Voki fun, but I then created a "
Doppel Me
" character which can be used in forums and blogs (as a static, non-interactive creation).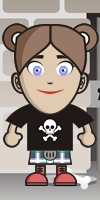 Then I found
Gizmoz
where a 3d image of my own photo can be used to create avatars and use them in mini videos, or I could use their images. They are similar to Voki in that you can record your own voice, or type in text. For the example below, I actually chose a file clip supplied by Gizmoz.
Not only am I now finding all these tools, I am starting to read the technology sections in the newspaper (on-line naturally). I recently read this article about
Gravatars
. So, curiosity dictated that I had to go and discover what they were all about. What is a gravatar?
According to http://en.gravatar.com/ a "
g
lobally
r
ecognized
avatar
, is quite simply an image that follows you from site to site appearing beside your name when you do things" - very similar to Doppel Me.
From what I can see, Voki and Gizmoz are far more interactive and have a wider range of purposes, rather than the static avatar that can be created for forum or blog postings.
How can they be used in an educational context?
"Avatars provide a face to the students and a face to the teacher. They provide
the
human
element to online teaching" -
Cohen
, 2007
Avatars are a way of providing anonymity for students. They are a way for students to have a mask to hide behind when presenting information as well as protecting their identity. This addresses the needs of the shy student, while also relieves parental concerns about how their child is being portrayed online.
As has been demonstrated in this course, avatars can be used to introduce new topics and subject matter.
From reading other blogs, I like how
Andrew
would use an avatar as a means to introduce himself to his class and how
Leonie
would use avatars as guest speakers, in web quests or a means to assist in literacy.
I have discovered that there are many educational blogs and wikis that provide information about how avatars can be used in the classroom.
Classroom 2.0
gave an example that used avatars, wikis and podcasts in a
global classroom collaboration
, again demonstrating how the components of relate-create-donate are being used in learning environments.
This is a tool that I look forward to being able to use.
References:
Cohen, A (2007)

Classrooms without Walls

. Downloaded August 2009 from http://acohen843.wordpress.com/2007/11/11/avatars-and-education/

Encyclopaedia Britannica. Downloaded August 2009 from http://www.britannica.com/EBchecked/topic/346586/Loki


Kearsley, G. & Shneiderman, B. (1999) Engagement Theory: A framework for technology-based teaching and learning. Downloaded 5 July 2009 from http://home.sprynet.com/~gkearsley/engage.htm

Voki etymology. Downloaded August 2009 from http://www.squidoo.com/voki